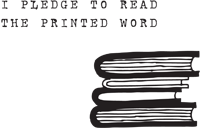 Every once in a while I have to make myself put down the laptop and pick up a book. I'm always in the middle of 2 or 3 books at a time and for some reason I get so distracted by other things (namely, blogs) that I take
forever
to finish reading a novel. So. I'm gonna read more books.
Care to join me? Go
here
to get a nifty little stack o' books for your blog, then pick a book (or a newspaper, or a magazine) and start reading.
I'm currently in the middle of Barbara Kingsolver's
Prodigal Summer
. It's really good. But I've been reading it since.... Thanksgiving. That's sad.
I gotta give credit where credit is due... this was
cevd
and
esb
's idea. They're pretty smart ladies, dontcha think?